WATER COVERAGE AND SUPPLY IN THE COMMUNE OF GITERANYI IN NORTHERN BURUNDI
The geographical structure has a profound effect on water availability in the province of Muyinga, which consists of various communes, including Giteranyi. Giteranyi is located on a plateau between 1400 m and 1600 m above sea level such that all rainwater flows down a slope. In addition, there are few rivers and the groundwater is found at a great depth. Although this region is not affected by major drought, there is no infrastructure or technology to harvest and treat rainwater, which is easily lost and therefore cannot be used after the rainy season to supply the population. The only existing water sources are about 4 km away.
All these reasons are at the origin of rate of access to potable water in this region (an average of 46% for the entire province of Muyinga, and only 20% for the commune of Giteranyi).
The limited access to drinking water puts the village population in a situation of water stress. Indeed, the population can only get 10 to 20 litres of water per day per household, which is far below the minimum human needs evaluated by the World Health Organization (WHO): 20 litres per person per day. The situation is therefore critical.
The graphs below show the water supply in Burundi compared to other African countries and Switzerland.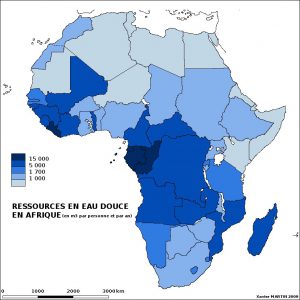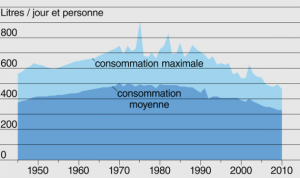 IMPACT OF WATER SCARCITY
In Burundi, health problems caused by water scarcity are widespread and severe – 4% of children under the age of five die from diarrheal diseases. These illnesses are related to both the insufficient quantity and poor quality of drinking water. Cholera and dysentery epidemics, which lead to severe dehydration among the sick and several cases of death, are often recorded.
The consumption of non-potable water has significant negative consequences on the population. Associated illnesses (e.g. diarrhea, hepatitis, typhus) increase infant mortality, as well as that of pregnant women. Widespread contamination can also lead to a reduced immune system among the population. Difficulty in maintaining a certain level of hygiene is responsible for various skin, eye and dental diseases. For this reason, the consumption of non-potable water and insufficient access to water are the main causes of the low life expectancy in these communities.
Sometimes people take drinking water from the same source where domestic animals also drink, causing the water to become contaminated with animal pathogens.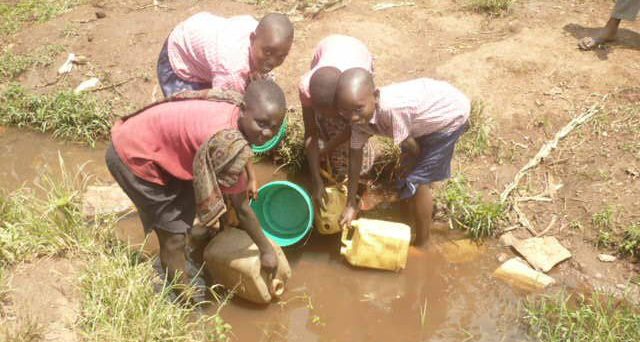 There are other repercussions due to the lack of water which affect family life and the social structure in the rural context.
In the division of family duties, it is mostly children who are responsible for the water supply for the whole family. Those who go to school have to get up at dawn and walk for hours to get to a water source. In addition, depending on the time of day, they have to stand in line to fill their cans (from 5 to 20 litres, depending on the age of the child).
In the case of Giteranyi Hill, this means that the child has to get up before 5 a.m. to collect and bring water to the family and then arrive on time to school. As a result, only the most motivated will find the energy to go and get involved in school, resulting in a very high illiteracy rate.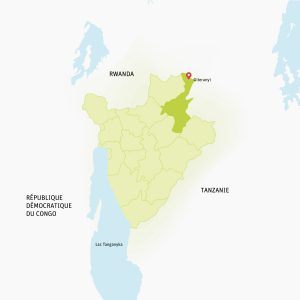 It is important to point out that this water scourge intensifies the difference in the literacy rate between boys and girls. Indeed, it is girls who are the most affected because they have the priority task of providing water for the whole family, while boys have to fetch wood for the fire, a task that can be accomplished on the way to or from school. This division of labour has serious repercussions on women's lives: girls' lack of education leads to early marriage and pregnancy, which undermines their health and diminishes their financial independence.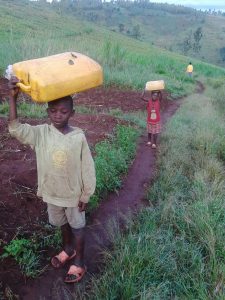 However, it has been shown by a number of studies that in a destructured social context caused by a civil war, such as that in Burundi, it is the female population that is most inclined to nation-building, reconciliation and development projects, while men are more reluctant to get involved.
This situation is compounded by the problem of the safety of children, especially girls, for whom the risk of aggression is high when they go to fetch water.
In conclusion, the realisation of this project would have positive repercussions on the social structure of the municipality of Giteranyi, such as :
development of this rural region
increasing education and literacy rates
reduction of gender differences in education
keeping the girls safe
possibility to follow a complete educational path for girls
reduction of certain diseases related to the lack of drinking water
decrease in infant mortality
improvement of personal and clothing hygiene
increasing the productivity of small-scale livestock farming
With this project, we would like to link the drinking water supply to education so that these two activities are no longer irreconcilable.