Technological choice: drilling and photovoltaic installation
As no field studies had been carried out previously in Giteranyi, we called upon experts on site to carry out geological and hydrogeological field investigations during the first phase of the project. For this purpose, we solicited Dr. Charles Bakundukize, Head of the Department of Earth Sciences at the University of Burundi, an expert in this field. The results of the geological, hydrogeological and geophysical investigations carried out in the village of Giteranyi and its immediate surroundings, as well as the visits of the sources of emerging water that can be captured to supply drinking water to the village of Giteranyi and its surroundings, allow us to draw the following conclusions:
The centre of Giteranyi is located at an altitude of more than 1600 m above sea level and on a terrain geologically made up of Precambrian crystalline rocks including siltites, quartzites, psammites and conglomerates. The carried out geophysical drill holes show high apparent resistivity values reflecting these different lithologies and offer no possibility of finding groundwater at the top of this ridge.
On the other hand, 2 km east of the village of Giteranyi, the village of Rusasa-Bisiga in the Gasenyi sector is located in a valley. There the geophysical drillings indicate the presence of the groundwater table at depths between 40 and 60 m. The boreholes we actually drilled there, show the possibility of reaching groundwater at a much shallower depth, (less than 30 m). In order to have a sufficient water column final boreholes should be drilled to a depth of up to 100 m.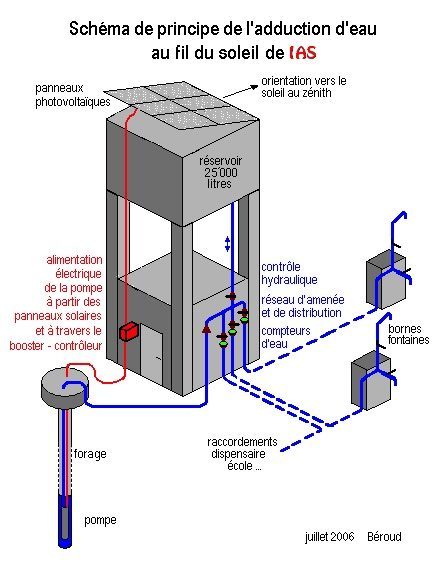 To supply drinking water to the Giteranyi centre, we therefore propose initially to drill one or two water wells equipped with photovoltaic pumps, as this is the cheapest option. In the future, with the mobilization of more financial resources, it will be possible to reinforce the water from the boreholes by tapping the springs. The channelling of borehole water to the centre of Giteranyi will require the construction of at least two water points to supply the villages crossed by the supply network, otherwise the villagers risk vandalising it.
After completion of the installation, a small group of people will be trained on site (Water Management Committee – CoGE) who will be responsible for mobilising the population around the project, ensuring the use of the infrastructure and sharing information on its use, in order to sustain the positive effects of the construction of the borehole.